Sanibel Island
Sanibel is a lush tropical island between Pine Island Sound and the Gulf of Mexico, a short distance west of Fort Myers. As you cross the causeway from the mainland, you will be entering a truly unique paradise. The island is ten miles long and the road continues on to Captiva Island.
We love Sanibel and think you will too. But don't take our word for it. Sanibel Island has been named one of the "the best in the world" in Condé Nast Traveler magazine's 2008 Readers' Choice Awards competition, earning a spot on the Top 10 North America Islands list. This is the fifth year in a row that Sanibel has received the honor. The awards are based on the Traveler Readers' Choice Survey, the largest independent poll of consumers' travel preferences.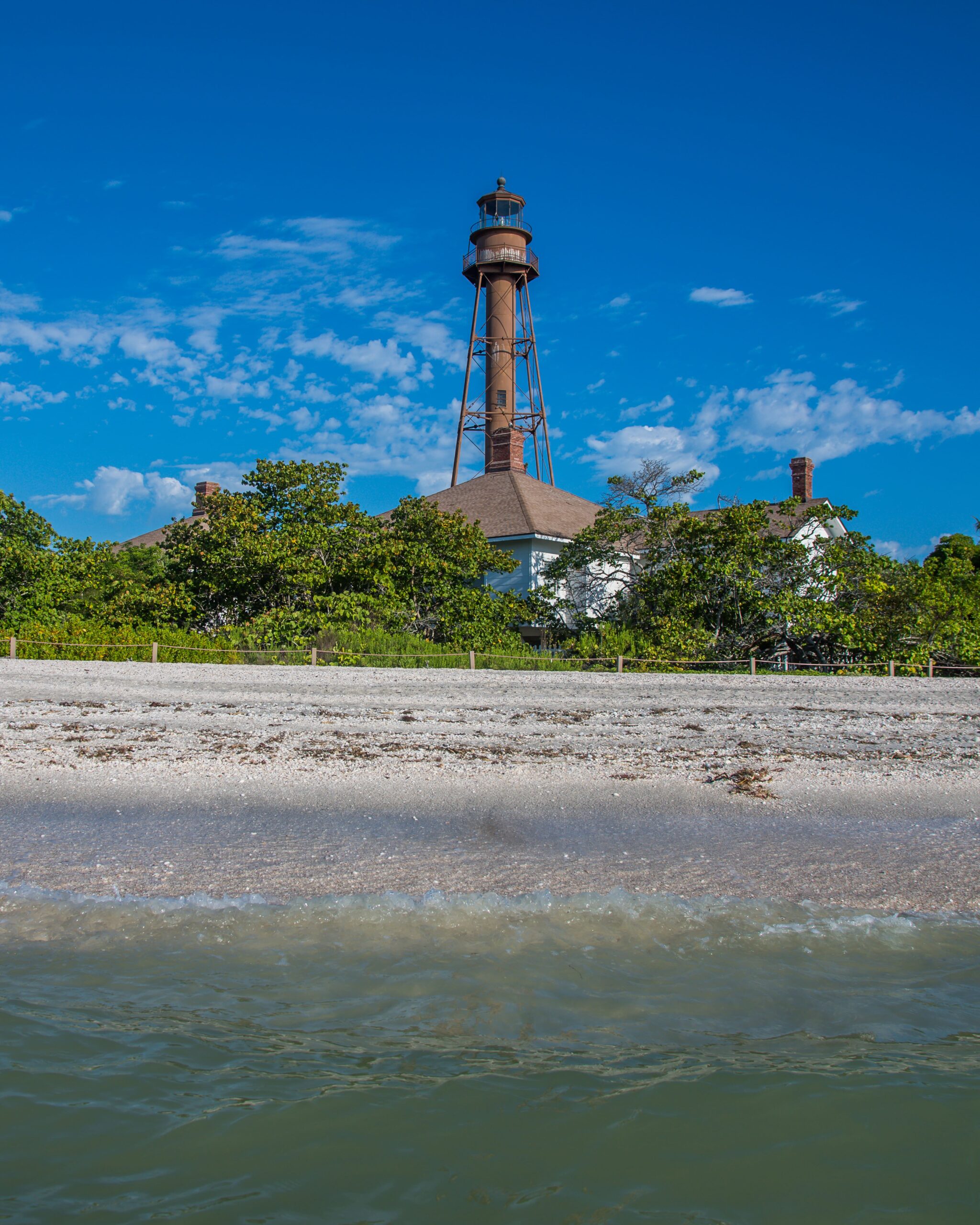 "Ding" Darling National Wildlife Refuge
The J. N. "Ding" Darling National Wildlife Refuge covers almost half of Sanibel Island — over 6,000 acres of preserved natural vegetation — giving a home to an amazing range of wildlife. It can be explored by bike, car or on foot by following the five-mile Wildlife Drive.
The refuge is well worth visiting whether this is your first view of Florida as it used to be, or if you are a regular nature watcher or photographer. You will also appreciate the variety of wildlife its presence brings to the rest of the island.
One of the best views of the refuge is from a kayak or canoe. Water "trails" wind through the refuge with a great up-close view of the mangrove stands and nesting birds. You can rent a kayak or a canoe just a short distance from Pointe Santo at the north end of Tarpon Bay Road. You can go on a guided tour and get instruction if you need it.
Ibis, egrets, ospreys, herons, cormorants and pelicans are some of the birds you will see during your visit to Sanibel. Watch the ocean to see dolphins playing off shore. Also look out for turtles and crabs.
Then watch the beach for shells. Sanibel is famous as one of the world's best shelling locations. The coastal currents along the edge of the Gulf deposit impressive quantities of new and varied shells with every tide.
Sanibel Style-Restaurants, Shopping and Bikes
Careful planning by the town has preserved the tropical character of the island. Strict zoning requirements were established before the rapid growth that affected much of the Gulf Coast reached Sanibel. There are no tower blocks or excessively commercialized property. Instead, Sanibel has numerous quaint shops and restaurants, several golf courses and miles of sandy beaches.
Whether you are looking for an elegant meal or a quick casual snack, the range of restaurants makes it difficult to decide where to eat. You'll find unique treasures in the interesting stores along Periwinkle Way. Everything you need is available without leaving paradise!
A great way to explore paradise is by bike or in-line skate. Bike paths cross the island from one end to the other and pass right in front of Pointe Santo. Rental bikes can be delivered straight to the condo making it very easy to get started. Pointe Santo has several bike stands where you can lock up bikes when you're not using them.

Make the most of the Gulf while you are on Sanibel.
Rent a kayak or canoe at the north end of Tarpon Bay Road, paddle into the nature reserve and get a close-up view of the tropical mangroves and wildlife.
Charter a boat for fishing, shelling, exploring other islands or taking a nature tour.
Take a water-taxi trip to North Captiva–an island on the other side of Captiva accessible only by boat or small plane. Reserve a golf cart, the only motorized transportation available, and spend a day touring another unspoiled location.
Take a sunset cruise starting with a trolley ride that picks you up right outside Pointe Santo.